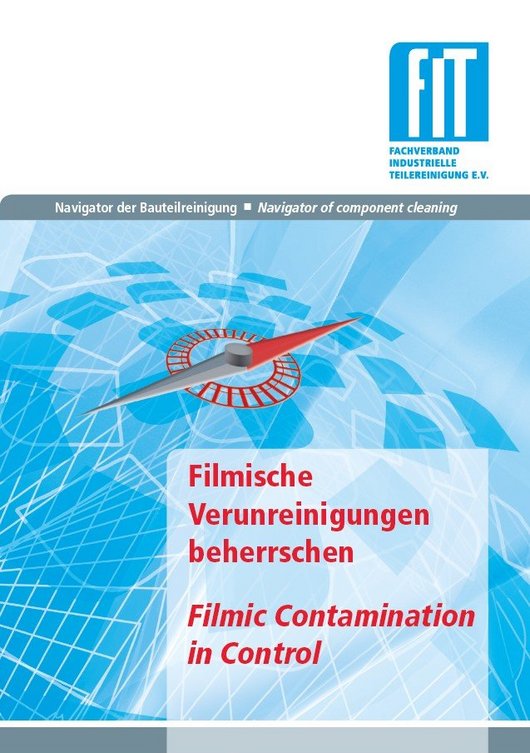 Guideline: Safe Control of Filmic Contamination
The Safe Control of Filmic Contamination guideline is intended for operators of parts cleaning systems, cleaning process owners, process chain leaders and users of measuring and testing technology. Its purpose is to facilitate quality-assured process management. Fachverband industrielle Teilereinigung e.V. (FiT) drew on the available state of the artbetween 2015 and 2018 to compile practical and expert knowledge as well as user experience to develop the Safe Control of Filmic Contamination guideline.
Free copy for FiT members

FiT members receive a free copy of the German-English document exclusively for their own use, i.e. within the company. Additional copies are available at a price of €50.00 (plus 7% VAT and postage) for FiT members and €90.00 (plus 7% VAT and postage) for non-members. They can be ordered from the FiT association office, info(at)fit-online.org.

NEW: FiT members can purchase the digital edition for €40.00 (plus 7% VAT) and non-members for €80.00 (plus 7% VAT).

Component surface cleanliness after preliminary, intermediate and final cleaning steps is an important quality aspect in many branches of industry. Production-related contamination cannot always be completely ruled out, despite the use of cutting edge production technologies. This means that any contamination must be cleaned off so that the part is sufficiently clean for downstream production steps (e.g. joining, painting) and final applications. While particulate impurities have mainly been considered over recent years, chemical/filmic contaminations are now increasingly perceived as quality influences as well.
Fachverband industrielle Teilereinigung e.V. (FiT) has recognised the sector's need for practical recommendations for quality-assured process management in the area of filmic contaminations. It developed the Controlling Filmic Contamination guideline between 2015 and 2018, based on the current state of the art and complemented with practical and expert knowledge as well as the authors' experience as users.
Filmic contamination is often preventable
Filmic contaminants include oils and greases, but also residues of corrosion protection agents, coatings, cooling lubricants and other production auxiliaries. Preservatives, adhesives, hand sweat and fingerprints are other examples. In general, filmic contaminants can be described as a thin, coherent (non-particulate) layer of unwanted, foreign components extending over some or all of the component surfaces.
Limit values are needed for oils, greases and similar substances
It is well known that oils, greases and similar substances interfere with certain processes. This is the origin of the very common specification "free of oil and grease". Insisting on the (complete) absence of an unwanted substance on a relevant surface is certainly purposeful as an initial step. It raises awareness among all stakeholders that oily and greasy residues may impair the processes. But while the similar requirement of "silicone-free" can be practically implemented in many production processes by avoiding production auxiliaries containing silicone, "oily" and/or "greasy" production auxiliaries cannot usually be eliminated. Essential production auxiliaries such as cooling lubricants in the machining of materials will by necessity contain natural or synthetic oils or greases. It is therefore essential in practice to define limit values that ensure adequate cleanliness, while still permitting the necessary process.
The situation is becoming increasingly challenging for parts manufacturers and cleaning plant operators, as a growing number of manufacturing processes and final applications hinge on the component surfaces being free of filmic contamination. The FiT Guidelines for quality-assured process management in part cleaning and the Checklist for planning a cleaning process can provide initial orientation to adequately meet these constantly growing requirements. This Control of Filmic Contamination guideline addresses all aspects of the topic.
Contents of the guideline
The introductory section of the guideline provides definitions and terms to standardise wordings. It then proceeds to explain the prevalence/sources of filmic contamination, as well as their properties and effects. Proprietary processes, end uses and sectors are used as examples to illustrate the growing significance of filmic contamination. The directive concludes by defining the scope of application.
A certain degree of basic knowledge is absolutely essential to develop, establish and optimise manufacturing and cleaning processes in-house and in doing so to ensure high overall process quality and reproducible quality in the end product. The process chain in parts cleaning, the initial condition of the parts prior to cleaning as well as the currently available solutions with regard to cleaning chemistry and cleaning processes are summarised, based on the basic concern of this guideline. Awareness of cleanliness or the degree of contamination on the components as well as the cleaning process – which are fundamentally necessary aspects – can only be obtained through the optimised use of suitable measuring, testing and analysis technology. A selection of the most common available processes are presented for this purpose and the possibilities and limits for their use are highlighted in particular. The guideline continues then with a description of current approaches and solutions within process monitoring.
The practical part establishes connections between basic principles together and offers solutions to typical tasks within parts cleaning. It includes practical recommendations for the systematic design of cleaning processes according to quality assurance standards and the proper approach to necessary process adjustments or even process disruptions that may occur. In addition, the guideline indicates practical ways to monitor active and interfering substances in the cleaning process and to examine the component condition throughout the process chain.
Besides identifying the sources of chemical/filmic contamination and testing the cleanliness of functional surfaces as typical tasks, the guideline also proposes a methodical procedure for determining limit values as a means of ensuring adequate cleanliness of components with regard to filmic contamination. Practical use of the available measuring, testing and analysis technologies is described and the advantages and limitations of the various methods are illustrated, based on the recommended procedures for typical tasks.
In addition, the FiT guideline provides further recommendations on the management of components to safeguard their cleanliness, the design of components that are easier to clean and on the handling of samples for surface analysis tests.

Consideration of these recommendations improves successful control of filmic contamination during the parts cleaning chain, as well as in upstream and downstream processes.

The guideline was prepared by the Filmic Contamination ad hoc working group at FiT. We would like to thank the participating authors and companies Dr Michael Flämmich, VACOM Vakuumkomponenten und Messtechnik GmbH, Jena, André Lohse, SITA Messtechnik GmbH, Dresden, Andreas Schaab, SurTec Deutschland GmbH, Zwingenberg, Dr Andreas Schäfer, nanoAnalytics GmbH, Münster, Wolfgang Schmitt, DODUCO Solutions GmbH, Pforzheim, Dr Christian Worsch, VACOM Vakuumkomponenten and Messtechnik GmbH, Jena.